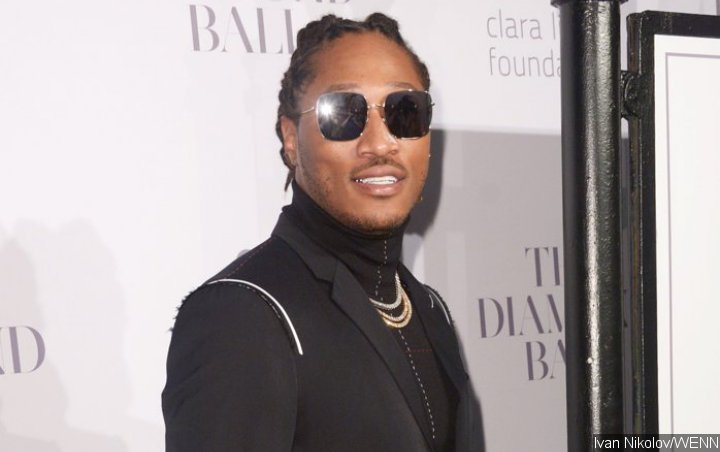 It all starts after a female fan posts on Twitter a screenshot of her getting a message from the 'Fine China' rapper along with a caption that read, 'It's official I'm a BAD B***H.'
AceShowbiz –
Considering Future's reputation with women, the rapper has a hard time dealing with the reaction that people gave when a female fan claimed that he slid into her DM. In result of that, he put all the blame on the said fan and ended up beefing with her.
It all started after a fan posted on Twitter on Friday, October 11 a screenshot of her getting a message from Future on Instagram. "It's official I'm a BAD B***H," so the said fan wrote alongside the screencap. The post quickly went viral on social media, with many people jokingly warning the girl not to get too close to the rapper or else he would get her pregnant. This was clearly a reference to Future's numerous baby mamas.
"I see baby mama #9 in the making," one person noted, while another echoed, "Um… u gonna be the next baby mama." There was also one who said, "That's no an accomplishment if it's Future sis. He thinks your baby mama material. Run fast."
Future was quick to clarify this issue before it got too big, saying that he only reacted to one of her Stories because she mentioned him in the post. "Y'all h**s sooo cap… my last time exposing a fan, the blogs over react to everything," he said along with a screencap of their DM.
Later, the Atlanta native posted another screenshot of their chat in which he blamed her for causing this issue. "U see the mess u caused u still got that s**t up on your page after all that backlash," he told the fan, adding, "It's mad corny sweetie. Take it down."
Feeling wronged, the devotee replied, "Idgaf what they saying bout me tf I can't get happy? You acting like I said you was tryna f**k I was just happy you acknowledged my pic that's all I'm not even tryna spread fake a** rumors."
It's unclear how Future responded to the fan.