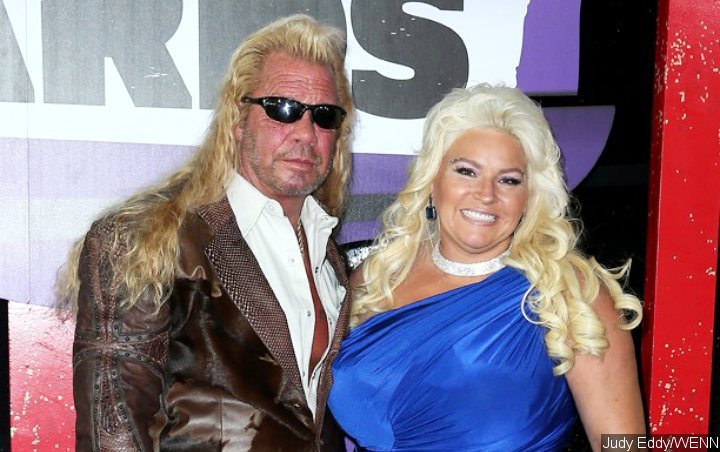 As the Chapmans are searching for other treatments, Dog the Bounty Hunter is back to work to cover her medical bills.
AceShowbiz –
Beth Chapman's cancer prognosis doesn't look good as her family is desperately looking for a cure to save her life. According to the family's representative, the Chapmans are trying to find alternative treatments for the 51-year-old after doctors told them that chemotherapy only gave her a 50/50 chance of survival.
But the family isn't ready to give up yet. "Beth is preparing for the battle of her life," the rep tells HollywoodLife.com. "She was given a 50/50 chance of the chemotherapy working, so the Chapmans are searching for other treatments, including in Boston, Houston, and possibly at MD Anderson."
The rep says that Beth remains positive and lives normally. "Beth is very strong, very healthy, and very, very active," the representative continues. "They are trying hard to keep things as normal as possible for their children, but are desperately clinging to each other while they go through the search for a cure."
In the meantime, someone has to work to pay the medical bills. So her husband Duane Chapman a.k.a. Dog the Bounty Hunter is "going back to full-time bounty hunting to try to help absorb some of the cost of his wife's medical bills," the rep says.
Amid her health issue, the couple is still able to enjoy life as they celebrated their son Leland's birthday on Friday, December 14. The ailing mother took to Instagram to share a video featuring her family eating out at a restaurant.
"Let the Birthday shenanigans begin Happy Birthday @lelandbchapman I'm so happy you came to spend your birthday with us," she captioned the clip. "Let the Reindeer games begin @jamiepchapman @cecilybeezee @bonniejoc @cole.lehmann @garrychapman @duanedogchapman."
Dog previously said he cried "all the time" after doctors discovered in late November that Beth's throat cancer has returned. Saying that he's doing his best to stay strong, the reality TV star told In Touch, "I cry all the time. I think I'm in a bad dream and I need to wake up. People keep saying to me, 'Dog, are you okay?' But I'm not the one who's sick. I am going to be right here with her."
In another interview with Us Weekly, Dog said his wife is already planning her own funeral. He shared, "She's like, 'Here's the casket I want, and here's the flowers.' I said, 'Beth, don't say that.' And she said, 'What? You don't want me planning my funeral? Well, I'm going to.' And she'll say, 'You have to face the facts.' But I don't want to."